Pastors Who Served the Black Swamp Church 1811-1870
The following list was compiled by the Reverend Michael Written from information in History of South Carolina Methodism by Albert Deems Betts of the South Carolina conference and was published by The Advocate Press, Columbia, South Carolina in 1952.
The Black Swamp Church was originally listed in the Edisto District. In 1825 the church was moved to the Charleston District. In 1868 the church became part of the Bamberg District. An asterisk (*) denotes a picture below.
1811 Reuben Tucker
1812 Thomas Mason
1813
1814 William B. Barnett
1815 James L. Berlin
1816 West Williams
1817 David S. McBride
1818 John Scott
1819
1820 Jeremiah Freeman
1821 Christian G. Hill
1822 Daniel G. McDaniel
1823 Archibald Purifoy
1824 Elisha Calloway
1825 Elisha Calloway
1826 Noah Laney
1827 John Watts and B. H. Capers
1828 Elisha Calloway, B. H. Capers, and Richard I. Winn
1829 J. Watts, R. I. Winn, and James J. Alison
1830 Jacob S. P. Powell and Joseph L. Moultrie
1831 William Cook and C. Wilson
1832 Bond English* and T. D. Turpin
1833 W. W. King and W. M. D. Moore
1834 H. W. Leadbetter and C. S. Walker
1835 T. Huggins
1836 M. C. Turrentine and John R. Pickett*
1837 William Martin and R. J. Limehouse
1838 H. A. C. Walker and H. H. DuRant
1839 James C. Postell and Henry H. DuRant
1840 R. J. Boyd and W. L. Pegues
1841 R. J. Boyd and M. Eady
1842 J. H. Wheeler and C. Smith
1843 J. H. Wheeler and W. G. Connor
1844 H. Bass and W. G. Connor
1845 Henry Bass and William T. Capers*
1846 Bond English and D. D. Cox
1847 B. English and J. S. Capers
1848 H. H. DuRant and B. English, Superintendent
1849 William Abney McSwain* and Thomas Mitchell
1850 William Abney McSwain and Thomas Mitchell
1851 A. M. Chreitzberg* and J. J. Fleming
1852 A. M. Chreitzberg and E. J. Pennington
1853 M. A. McKibben and O. A. Darbry*
1854 M. A. McKibben and Edward D. Boyden
1855 A. G. Stacy and Basil G. Jones
1856 Samuel Leard
1857 Samuel Leard and R. W. Burgess
1858 L. M. Hamer and W. C. Power
1859 L. M. Hamer and W. W. Graham
1860 John W. Kelly* and Frederick Auld*
1861 John W. Kelly and Frederick Auld
1862 Samuel Leard and N. K. Melton
1863 Samuel Leard and N. K. Melton
1864
1865 M. L. Banks
1866 Abram Nettles*
1867 Augusta W. Walker
1868 T. J. Clyde
1869 L. C. Loyal
1870 L. C. Loyal
Photographs of Pastors 1832-1852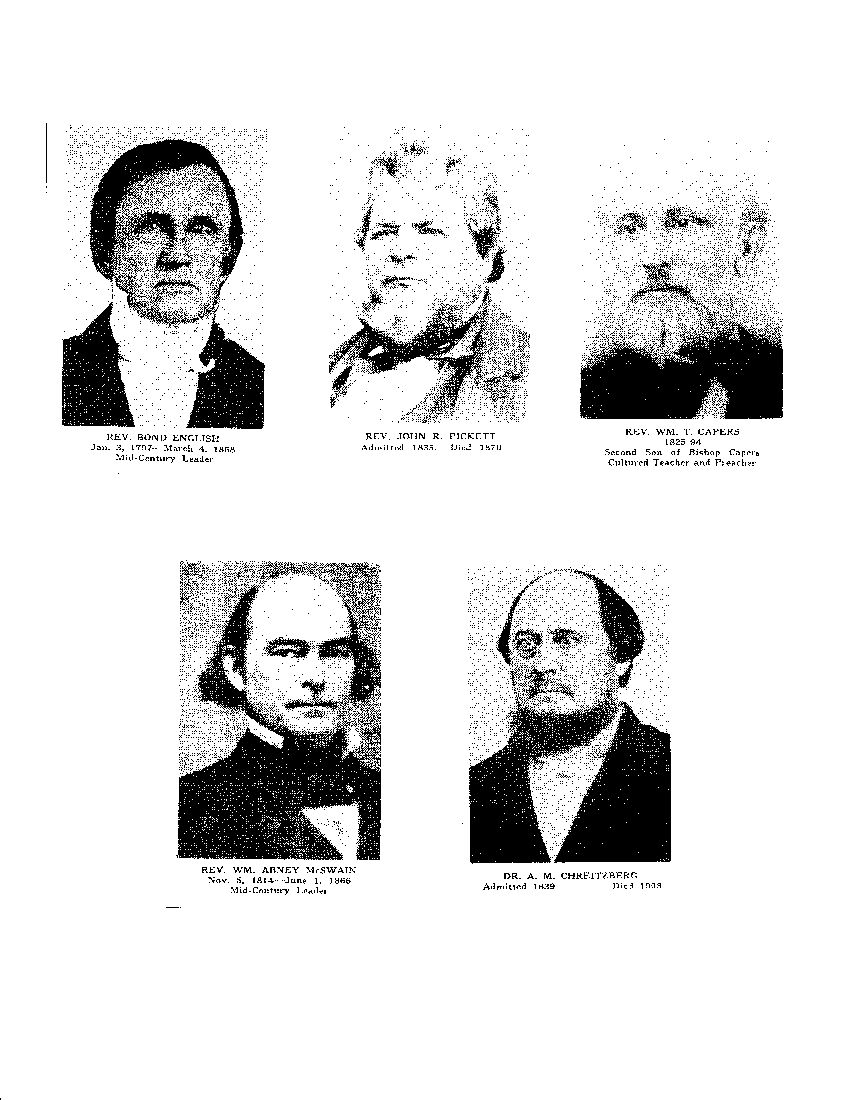 Photographs of Pastors 1853-1866